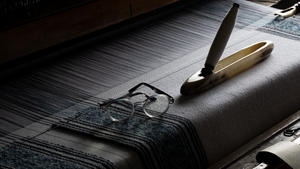 Bring Art To Life
Through Towel Weaving
handmade
100% ORGANIC BERGAMA TURKISH COTTON
Sophisticated yet traditional, our luxurious bath towels are made from the finest 100% organic Bergama Turkish cotton.  Using 17th century traditional weaving, our towels are handmade by our master weavers in Bursa, Turkey.  With 1250 four-ply loops per inch, our Turkish towels are extremely absorbent,  generously sized, and softer after every wash to create an extraordinary textile experience. 
luxury
You can have everyday
Our towels are generously sized so you can wrap yourself in luxurousness.
Impressive COLOURS
CAREFULLY PROCESSED YARNS
Yarn-dyed not dipped-dyed
SELIM AYKIRAN
Selim Aykiran, founder and designer of TTC Home, has a long history in the textile world. Selim was born in Istanbul, Turkey, a country known for it's rich textile traditions. He left in 1972 and opened a fashion store on South Moulton Street in selling high-end casual wear from Italy. He moved to Bologna Italy in 1978 and was the European agent for Italian brands Americanino and Forza12 jeans hailing from Padova, Italy.
Selim was designing and selling jeans, tee shirts, sweat shirts and denim shirts. This is when Americanino and Forza12 began to flourish. From there, Selim became involved with Diesel jeans, Ball jeans, Replay, CP company, Sirio shirts and Stone Island under Formula Groupo. He was the first representative to bring these fashion brands to New York in the 70-80's and helped create the "jean craze" in America.
His towel collections are inspired by these cultures and life experiences. As Selim would say, Good design inspires Good Life! My culture is Music, Food, & Vıno. Welcome to my world. My life from Istanbul to London to Bologna to New York and now San Francisco. Enjoy!
DELAWARE STREET HISTORIC DISTRICT
CITY OF BERKELEY LANDMARK
In the 1850s, Gold Rush-era farmers and merchants began settling in this rural bayside area. Delaware Street connected Jacob's Landing, a freight wharf constructed on the waterfront in 1853, with Bowen's Inn (1854), which stood on the old stagecoach road that is now San Pablo Avenue. At that time, the bay shoreline was approximately where 2nd Street and the eastern side of Aquatic Park are located today. This area, called Ocean View, was the first settlement of what was to become Berkeley.
..............
★★★★★

I've been coming to Turkish Towels for years for my towels. The quality is fantastic. Once you use one, you won't want to use any other kind of towel. I stopped by before the holidays to buy some as gifts, and to replace the ones I've had to divide with exes after the relationship was over (the struggle is real). The selection and quality was just as great as ever. I'll keep coming back for sure since ppl can't just let me have them, lol.

Alison

San Jose, CA
★★★★★

The owner is so enthusiastic and knowledgable about his beautiful textiles that it is an absolute pleasure to discuss these things with him: organic versus conventional cotton, where the finest cottons in the world come from, well known designers and what they prefer ….and more! Its always fun to visit the shop and have a chat about these and other matters.

lucie

Los Angeles, CA
★★★★★

The Turkish Towel Collection is a treasure. We have several sets of their towels, and the oldest ones — about 10 years — look like new. While these towels are not inexpensive, their quality and durability make them a great value.We have purchased some of their simplest designs, which are beautiful. Their higher end products are works of art. As Selim (the owner) will happily tell you, his factories supply some of the world's most famous luxury hotels.

Cary

Los Angeles, CA
★★★★★

An absolutely excellent product. You will not find a finer towel. When guests stay at my house they ask if they can take the towels home with them. Friends tell me have not seen a finer softer towel. Not only is the product the best....the people at Turkish Towel Collection are fabulous. Customer service is excellent. Once you get a towel from TTC...you will never look for another brand. They are the best.

Bob

Los Angeles, CA